'RuPaul's Drag Race All Stars' 2: Here's what to expect from the rest of the season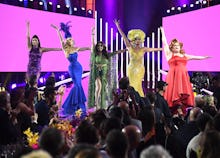 RuPaul's Drag Race All Stars crowns its winner Thursday, but there are two episodes left in the season. Like Katya, we didn't go to fucking school for math, but we're pretty sure there's an extra week in there somewhere.
In a reversal from the past several seasons of Drag Race, the reunion and finale are not one and the same this year. The finale will follow the format of the first All Stars season, where RuPaul and her team shot crownings for both winner Chad Michaels and runner-up Raven. Katya has alluded to Drag Race shooting three crownings this season — but said so before the reunion was shot, much less announced. 
So that means the winner of Drag Race will be announced Thursday after the final challenge, not during the reunion, which will air the week after. So what does that mean for the reunion — and will this change any of the odds for who takes the crown?
To answer the latter: No, it shouldn't. Since the crownings were shot ahead of time, Ru can wait up until the last second to choose a winner. If the crowning happened at the reunion, it would just mean one more week of waiting.
That said, Alaska's popularity is at subterranean levels compared to Katya's right now. (Let's not even discuss Detox's and Roxxxy Andrews'.) Perhaps an extra week would help her bounce back, but at this point, after Alaska's tantrum in the most recent Drag Race episode, Ru's probably made her mind up about Alaska at this point.
As far as the reunion is concerned: A representative for the show confirmed to Mic in a phone conversation that the format would be akin to the first three seasons of the show — all the queens in a room together hashing things out. (Think Real Housewives reunions.) Phi Phi O'Hara made good on her promise not to attend, according to the representative, while Adore Delano, who withdrew in the season's second episode, was there for filming.
With only a finale and a reunion to go, this season of All Stars is all but wrapped up. Who will win? Fans will have to tune in Thursday at 8 p.m. Eastern to Logo or VH1 to find out.