Former US Attorney General Eric Holder burns Trump hard for threatening to jail Clinton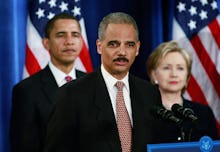 "In the USA we do not threaten to jail political opponents. ... [Trump] said he would. He is promising to abuse the power of the office."
Those were the strong and unequivocal words of former United States Attorney General Eric Holder, in a series of tweets he posted during and after Sunday's presidential debate. 
At one point in the debate between Republican candidate Donald Trump and Democratic candidate Hillary Clinton, Clinton's email debacle invariably came up — to which Trump threatened her, saying, if he were president, "you'd be in jail." Trump said, as president, he would tell his attorney general to get a special prosecutor to investigate Clinton.
Holder didn't miss a beat, immediately using Twitter to compare Trump to former president Richard Nixon, who unsuccessfully attempted a similar move. 
The tweet — and his subsequent tweets — went viral, with more than 17,000 likes and 13,000 retweets at the time of publication. 
Not long after the debate concluded, Holder wrote: "Be afraid of any candidate who says he will order DOJ/FBI to act on his command. This is dangerous, so is @realDonaldTrump — he's not qualified." 
And this was followed by the most damning tweet, which states Trump promised "to abuse the power of the office."
Holder served as President Barack Obama's U.S. attorney general, from 2009-2014, and made history by becoming the country's first black attorney general. While he has a reputation for devoting himself to civil rights, he certainly does not have one for posting to social media; suffice it to say, he's not an avid tweeter. This compounds the power of his messages Sunday night, some have suggested. 
At the end of the debate, Holder reminded the world of his commitment to civil rights and social justice, arguing Americans should vote for Clinton because choosing the next Supreme Court Justice — something the next president will be tasked with — is crucial for preserving democracy, "to protect [the] right to vote and get money out of politics."