Guy Ritchie may remake 'Aladdin' as Disney continues its quest to reboot everything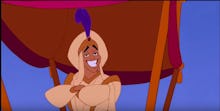 If you've been living under a rock, then you haven't noticed that Disney is doing live-action remakes for a plethora of its classic animated films. Next on the docket: getting things set for a live-action remake of Aladdin. 
According to the Hollywood Reporter, Disney is currently negotiating with Guy Ritchie to direct an Aladdin remake. Ritchie would be given the chance to do an "ambitious and nontraditional take" on the 1992 film, per the Hollywood Reporter, though they are planning to keep the "musical elements of the original."
Given Ritchie's directorial style and previous films (See: Lock, Stock, and Two Smoking Barrels and Sherlock Holmes), the new Aladdin could be a more high-octane, action-oriented film than the original — though similarly, given Ritchie's past, it wouldn't be bereft of humor. What Ritchie would have to do, however, is find a worthy replacement for the voice of the Genie after Robin Williams' death in 2014. 
Ritchie's potential involvement in an Aladdin remake was met with a mixed response, as some in the Twitterverse wondered if his directorial style — and affinity of slow-motion shots — would suitably fit the Disney film's aesthetic. 
The Aladdin remake currently doesn't have a release date.