Here are the top Donald Trump and Hillary Clinton SNL skits this election so far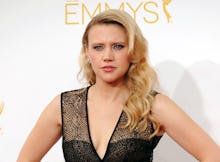 Just 24 hours after the bombshell videotape of Donald Trump making crude remarks about women back in 2005 was released, viewers tuned in to Saturday Night Live to see how the venerable sketch comedy show would skewer the Republican candidate for his latest scandal in the 2016 campaign.
Instead, the show's second episode of its 42nd season opened with the bit about the vice presidential debate between Mike Pence and Tim Kaine, which took place several days before. Take a look:
They certainly didn't pass on the opportunity to take down Donald Trump after one of the biggest October surprises in modern presidential history.
The skit has been viewed more than 4 million times on YouTube. And Saturday Night Live's debut episode on Oct. 1 — just in time to get in on the last 30 days of this historic election — had its highest ratings since 2008 when Tina Fey crushed it with her impersonation of GOP vice presidential candidate Sarah Palin, according to the Los Angeles Times.
This time it's Alec Baldwin who is getting rave reviews for his impression of The Donald.
"Baldwin was a natural choice to play Trump: a solid impressionist and a native New Yorker, born east of Trump, on Long Island, with a long history of hosting SNL. But he may, beyond that, be uniquely suited for the role. In an alternative universe in which the Democrats, rather than the Republicans, had nominated a charismatic, thin-skinned, and incendiary celebrity as their Presidential candidate, Alec Baldwin could be Donald Trump," Ian Couch wrote in a recent review for the New Yorker.
And after Sunday night's presidential debate — and whatever else might happen on the campaign trail in the days leading up to this season's third episode — the show is sure to get in as many laughs as they can before Nov. 8.
Here are some of the top skits from Saturday Night Live, so far.
Mic has ongoing presidential coverage. Please follow our main election hub as well as coverage of Donald Trump and Hillary Clinton.