Trevor Noah slams Donald Trump's "locker room talk": "It's boasting about sexual assault"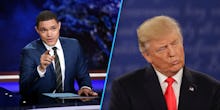 Donald Trump's predatory rhetoric regarding women, on full display in two separate rounds of leaked audio from 2005 and 2006, does not represent "locker room talk," as he keeps insisting. No, as a furious Trevor Noah put it in a Monday night installment of The Daily Show, "it's boasting about sexual assault."
"Two things about that locker room excuse," Noah said in a preview of the episode posted to Facebook before the show aired. "They're conflating sex talk and sexual assault talk, alright. Trying to make Trump's comments sound normal is not something they're achieving, because, I'm sorry, that is not normal. There's a big difference between saying dirty words and glorifying nonconsensual sexual contact."
When the Washington Post leaked the first damning tape, Trump came under fire for describing a sexual assault. In a 2005 hot-mic conversation with former Access Hollywood correspondent Billy Bush, Trump describes how he moves in on women "like a magnet," kissing them without their consent. On the tape, he says a number of untoward things — including that, when a man is famous, he can just "grab [women] by the pussy" and, at his leisure, do whatever he pleases. 
"It feels like more people are focused on 'he said pussy'; it's not about that," Noah said. "It's about him saying he forces himself on women." 
On Saturday, CNN released a recording of Trump talking to shock jock Howard Stern in 2006. In it, Trump praises his daughter, Ivanka, for her "voluptuous" figure and agrees to Stern's assessment that she is "a piece of ass." He disparages women over 35 as having passed their prime, and recalls how he used to barge in on Miss Universe contestants while they were changing in their dressing room, under the guise of "inspecting" the pageant, because he was his owner. 
Following the Washington Post's release, Trump tweeted a video quasi-apology in which he dismissed his words as "locker room banter." At the debate Sunday night, he doubled down on the "locker room talk" explanation, a defense to which his campaign is still clinging and which Noah blasted full of holes. 
"Trump can try to excuse his behavior by calling it locker room talk, but you realize, he wasn't in a locker room," Noah pointed out. "He was in a TV interview. If you conduct locker room talk everywhere, it's not the locker room, it's you motherfucker. It's you."