Chelsea Manning's legal counsel and advocates are concerned about her whereabouts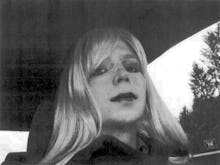 According to a tweet from Chelsea Manning's attorney Chase Strangio on Sunday, Manning, a trans woman serving 35 years' time in a men's prison for leaking millions of military and diplomatic documents to Wikileaks, hasn't had contact with friends, family or supporters for the last five days.
On Monday, @SaveManning, a Twitter account run by Manning's advocates, confirmed they hadn't heard from Manning in six days, according to Jezebel. 
"We continue to be very worried," they wrote. The tweet followed one from Friday stating Manning had missed "three planned phone calls" with the group.
The news comes just a few weeks after Manning landed a major victory when the United States military agreed to provide gender transition surgery. At the time, Strangio, who works for the ACLU, told BuzzFeed News he was thankful the "government has recognized its constitutional obligation to provide Chelsea with the medical care that she needs."
But that celebration was short-lived: On Sept. 23, Manning was sentenced to 14 days of solitary confinement for attempting suicide in July. Manning said the punishment is known as "disciplinary segregation," in a statement reported on by the Guardian. She said there was "no set date set" for her confinement to start, and that she would be given an opportunity to appeal the decision. 
"I am feeling hurt," Manning said at the time. "I am feeling lonely. I am embarrassed by the decision. I don't know how to explain it."
Mic reached out to Strangio for comment and will update this story if we hear back.