Death Cab for Cutie declares war on Donald Trump with the blistering "Million Dollar Loan"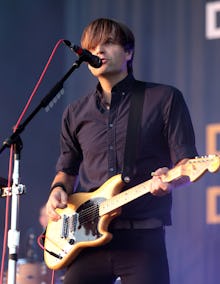 Death Cab for Cutie, the 19-year-old emo band that molded a generation of sensitive Seth Cohen clones — thick glasses, cardigans, a penchant for late-night drives — has come a long way since its Transatlanticism days. 
Monday, Ben Gibbard and Co. returned with a new track, one of its most outwardly political to date: an anti-Donald Trump anthem called "Million Dollar Loan." It excoriates the Republican presidential candidate for the lie that he pulled himself up by the bootstraps, and shares a reality about how he made his fortune by countersuing his way out of "any corner he's backed into."
In a press release, Gibbard said the song "deals with a particularly tone-deaf moment in Donald Trump's ascent to the Republican nomination."
"While campaigning in New Hampshire last year, he attempted to cast himself as a self-made man by claiming he built his fortune with just a 'small loan of a million dollars' from his father," Gibbard said in the release. "Not only has this statement been proven to be wildly untrue, he was so flippant about it. It truly disgusted me."
The song itself leans toward twee electronica, like a B-side from the Postal Service's 2003 coffeehouse hit Give Up. "Million Dollar Loan" is easy, steady and subdued, a soothing landscape for the lyrics to glide over. The chorus is an earworm — Death Cab borrows the chord setup from Demi Lovato's "Heart Attack" — but the words may strike some as a bit on-the-nose. "Nobody makes it on their own," Gibbard sings. "Call your father on the phone/ Get that million-dollar loan." Before you know it, you're humming along.
Like Bright Eyes' Conor Oberst, another early 2000s emo boy wonder, Gibbard has leaned political to meet an audience thirsty for progressive hot takes you can consume in four and a half minutes. It's jarring to see old favorites reemerge, reinvented, suddenly all grown up — but we need someone to cut through the crazy. Why not Ben Gibbard? He's probably sick of singing "I Will Follow You Into the Dark" by now.