Donald Trump once fired a 'Celebrity Apprentice' contestant for... "locker room" talk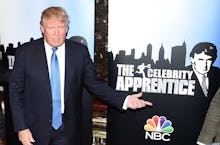 Apparently, what's good for the candidate is not good for the contestant.
While Republican presidential contender Donald Trump has brushed off his graphic hot-mic comments about women as mere "locker room talk," he once fired a woman from his Celebrity Apprentice reality show for being too crass for his taste.
Trump booted pro wrestler Maria Kanellis from the program in season three "after she made a comment about contestant Curtis Stone and his bowel movements," the Charlotte Observer reported.
"Isn't it sort of gross bringing that up? It's like disgusting," Trump said, according to the newspaper. "This is my boardroom. It's not a locker room. Maria, you're fired."
Kanellis said in a 2010 interview that her dismissal came as a shock.
"Some of the comments I've heard in the past in the boardroom had been 100 times worse than what I said. And so, I was a bit surprised," she told Niagara Frontier Publications.
"It was supposed to be a joke, but it didn't turn out that way. People have different senses of humor. And so, I was very upset. I was crying. I was just — I was mad, you know a whole slew of emotions."
Trump has been on the defensive since the Washington Post published tapes of him making lewd remarks about pursuing and groping women to Access Hollywood host Billy Bush in 2005.
In a campaign statement released shortly after the Post story hit and again during his Sunday debate with Democrat Hillary Clinton, Trump has said he apologizes if he offended anyone with his "locker room" banter.
At the same time, Trump has tried to flip the script, bringing to the St. Louis debate a trio of women who have accused former President Bill Clinton of sexual assault and claiming Hillary Clinton tried to destroy those women's lives.
A Trump campaign spokeswoman didn't immediately respond to a request for comment.
NBC Universal, maker of Celebrity Apprentice, cut all business ties with Trump shortly after he launched his presidential campaign in June, 2015.
The network, which acknowledged Trump said he would not continue with the show due to his political ambitions, cited his "derogatory comments" about immigrants in announcing the break, which affected the partially Trump-controlled Miss USA and Miss Universe pageants.