Reince Priebus: RNC still firmly behind Trump after 'grab them by the pussy' video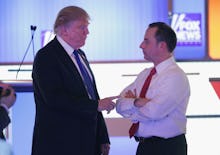 Days after the Washington Post released leaked video of GOP presidential nominee Donald Trump bragging about how his fame enabled him to grope and kiss women without repercussions, and on the same day Trump unleashed a Twitter tirade against GOP Speaker of the House Paul Ryan, Republican National Committee Chairman Reince Priebus is reassuring anxious party members everything is just fine.
In a conference call with RNC committee members, Priebus said "Nothing has changed in regard with our relationship," CNN reported.
"We are in full coordination with the Trump campaign," Priebus continued. "We have a great relationship with them. And we are going to continue to work together to make sure he wins in November."
"Like all of you, I don't condone what was said in the video," the chairman added. "In fact, the campaign itself doesn't defend the words in that video."
Preibus also told RNC members Trump had performed well in the Oct. 9 presidential debate with Democrat Hillary Clinton, election day efforts are "ahead of budget" and "everything is on course."
In other words, nothing to see here.
Of course, there is in fact quite a bit to see here, given that the RNC at least temporarily suspended all Trump campaign coordination projects over the weekend. Numerous high profile Republicans have now either disavowed Trump, formally retracted their endorsements or, as in Ryan's case, simply stated they would no longer try to protect the candidate from his own scandals and instead focus on protecting other GOP candidates from the fallout.
Trump's own words in the video have been substantiated by former crew and cast members of his show The Apprentice, as well as women who said the now-candidate assaulted them in the manner described.
Meanwhile, Trump's odds in the polls have plummeted, with an average of polls kept by Real Clear Politics finding Clinton with a 5-point-plus lead, and poll-tracking website FiveThirtyEight calculating Clinton now has a nearly 80% chance of winning the race.
That's not even counting the possibility things could get worse for the Republican candidate, seeing as rumors of more tapes (including one of Trump using the racial slur "n*gger") abound.
"There's a consensus, even among supporters, that the likelihood of something else breaking in a very embarrassing and negative fashion is certainly better than 50-50," Virginia Rep. Scott Rigell said during the call with Priebus, reported the New York Times. "The conference, members, et cetera, are bracing themselves for another salvo of this."