Florida Voter Registration: Judge extends deadline despite Gov. Rick Scott's refusal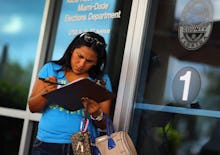 Despite Florida Gov. Rick Scott's refusal to extend his state's voter registration deadline because of Hurricane Matthew, a U.S. district court judge has given potential voters an extra day, pushing the deadline to Wednesday, Oct. 11, CNN reported.
The deadline was originally Tuesday.
The state's Democratic Party sued, arguing that the impending storm barreling towards Florida had interrupted last minute signups. Republican Gov. Scott, however, refused to extend the deadline despite telling residents to evacuate ahead of the storm. 
"Everybody's had a lot of time to register.  On top of that, we have lots of opportunities to vote, early voting and absentee voting, so I don't intend to make any changes," Scott said, according to the Huffington Post.
Judge Mark E. Walker disagreed with Scott's assessment.
"Hurricane Matthew not only forced many of those voters to evacuate the state, but also foreclosed the only methods of registering to vote: in person or by mail," Walker wrote in his ruling. "As a result, Florida's statutory framework completely disenfranchises thousands of voters, and amounts to a severe burden on the right to vote."
Judge Walker also dismissed any accusations that his decision was politically motivated, CNN reported. 
"It has been suggested that the issue of extending the voter registration deadline is about politics. Poppycock," Walker wrote. "This case is about the right of aspiring eligible voters to register and to have their votes counted. Nothing could be more fundamental to our democracy."
Hurricane Matthew killed 19 people in the U.S. and more than 1,000 in Haiti, Mic previously reported.