In epic tweetstorm, conservative woman calls GOP men "cowards" for not disavowing Trump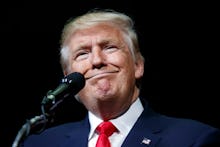 In a tweetstorm that captured the horror that Americans of all stripes feel at Donald Trump's vulgar and offensive comments about women and sexual assault, a conservative woman went on a tear Monday night against Republicans standing by the party's nominee.
The woman, who on Twitter calls herself Marybeth, tweeted that she's defended the Republican Party for years against charges of sexism — a narrative Democrats have pushed because of the GOP's policies on abortion rights, equal pay and health care.
But now that many Republicans are sticking by Trump after he bragged about being able to "grab them by the pussy" and kiss them without consent, as well as his myriad of other denigrating comments like calling women "pigs" and "dogs," Marybeth said she's done.
"I defended @MarcoRubio during [the Gang of Eight immigration reform negotiations], I fought in my state to stop the @ScottWalker recall," Marybeth wrote, revealing she lives in Wisconsin, where Walker is governor. "Now some Trojan horse nationalist sexual predator invades the @GOP, eating it alive, and you cowards sit this one out?"
In her rant, Marybeth calls out Republicans like Alabama Sen. Jeff Sessions, who said Trump's comments that he grabbed women's genitals and kissed them without consent didn't describe sexual assault.
The U.S. Department of Justice lists any kid of unwanted or nonconsensual sexual act is sexual assault, which Sessions should know because he's a lawyer and former U.S. attorney.
Marybeth's anger toward the GOP reflects the negative impact Trump's bid is having on the party.
Not only is Trump likely squandering Republicans' chances at winning the White House in November, but he could undo any progress the party made to try and shake the negative image women have about the GOP.
"I'm just one woman, you won't even notice my lack of presence at rallies, fair booths, etc., You won't really care that I'm offended by your silence, and your inability to take a stand," Marybeth wrote. "But one by one you'll watch more women like me go, and you'll watch men of ACTUAL character follow us out the door. And what you'll be left with are the corrupt masses that foam at the mouth every time you step outside the lines."
You can read her entire tweetstorm here.