This Kim Kardashian "robbery victim" costume is being called out for being "disgusting"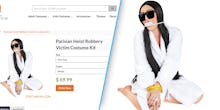 On Oct. 2, Kim Kardashian West was tied up and robbed at gunpoint in a Paris apartment, with thieves leaving with millions of dollars with of jewelry. Since the incident, Kardashian West has been said to be understandably "shaken up" by the experience. 
Now, 20 days before Halloween, and a little more than a week after the robbery, you can buy a Halloween costume that looks an awful lot like what Kardashian West went through that night. 
For legal reasons, the online costume outlet Costumeish doesn't use the name "Kardashian" in the title or description of the costume, but rather "Parisian heist robbery victim costume kit," and shows it worn by a woman who looks an awful lot like Kardashian West. 
The costume kit is selling for $69.99 and comes with a white short, sexy robe, a long black wig, large sunglasses, two feet of rope, a fake gag and a "$4 million ring," which looks quite a bit like the $4 million ring that was stolen during the robbery.
"She has devoted her life to promoting American decadence, youth, and hedonism but all that flashy living caught up with her one night in Paris when armed men bound her, stole her jewelry and her peace of mind," Costumeish writes in the description, clearing describing Kardashian West. "This Halloween have some fun with pop culture and dress just like the Queen of Social media with our sensational 'Parisian Heist Robbery Victim Costume.'" 
Already, people are coming to Kardashian West's defense and leaving reviews on the costume, noting how "disgusting" it is to mock her ordeal. 
"This is not funny at all," one reviewer wrote. "The situation Kim was in shouldn't be a joke to you or anybody. Just because she is famous doesn't mean she is any less human (unlike you disgusting people)." 
Another: "This is disgusting. It is not funny. Put your kids in her position and rethink the purchase. This company doesn't even deserve a penny out of my pocket. If you truly care about women do not buy from this company as they promote rape culture by turning events that every woman fears into a joke. All this company cares about is making more money and promoting more danger."
And on Twitter, people are already speaking out against the costume. 
Though Halloween is obviously no stranger to offensive costumes, most recently with a number of companies trying to sell a transphobic "tranny granny" costume, this one is mocking a woman going through an incredibly traumatic event. Already, people have tried to lay blame on Kardashian West for drawing attention to herself and her wealth, and now this costume is attempting to turn her experience into a joke. 
Mic has reached out to Costumeish for comment and further explanation.