Samantha Bee delivers a literal vagina monologue to take down Trump's leaked 2005 tape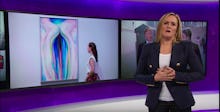 When Samantha Bee reacted Friday to Donald Trump's leaked 2005 tape on Twitter, it was a brief 30-second parody of the incident — which was funny, but not necessarily the same scathing tone as her usual segments on Full Frontal. On Monday's show, she addressed the video at length — and she delivered. 
"Oh yeah, I'm going in on this like a bitch," Bee said after playing a chunk of the leaked video to the audience. 
For Bee, the most repugnant aspect of the video was the way in which Trump and then-Access Hollywood host Billy Bush described soap opera actress Arianne Zucker inside the bus prior to meeting her.
"In less than a minute, these two leering dildos turned their rape culture banter into a rape culture power move that demeaned and violated Zucker in ways she is only now finding out about," Bee said. "We know this is shocking for most normal men, but every woman I know has had some entitled testosterone monster grab her like a human bowling ball." 
Bee then turned her attention to the news coverage of the video, which had a plethora of broadcasters avoiding the word Trump uses — "pussy" — in favor of a more audience-friendly term. But Bee, in what can be described as a literal vagina monologue, breaks down all the ways to describe it. 
It must be so hard to make 24 hours of television without saying the words: cunt, snatch, cooter, silk purse, spicy taco, hoohoo, trim, vajayjay, bearded clam, front bottom, nether region, sin grotto, red lobster, beaver, fur burger, downstairs retreat, honey pot, inner sanctum, yoni, sugar walls, peach blossom, lady treasure, roast beef curtains, grey garden. Oh, I almost forgot the most important one: box.
Bee said GOP leaders don't get a pass for only denouncing Trump after the leaked tape. After all, he's denigrated Mexicans, immigrants, people with disabilities and Muslims since the start of his campaign. So when House Speaker Paul Ryan uninvited Trump from a rally in Wisconsin — but still hasn't technically unendorsed him — it's unworthy of praise. 
"You don't have the courage of a single one of your convictions," Bee said. "But you were smart enough to disinvite Trump from your [event]. He wouldn't be able to resist grabbing a pussy like you." 
Watch the second part of Bee's breakdown of the Trump video below.