'RuPaul's Drag Race All Stars' 2: How to watch Thursday's crowning episode online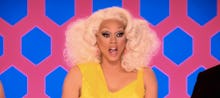 "Last time it was the three of us and a lovable weirdo, we all saw how that fucking worked out," season five runner-up Alaska says in the preview for the RuPaul's Drag Race All Stars season two finale. She's talking about when she and her fellow members of Rolaskatox, Roxxxy Andrews and Detox, lost to Jinkx Monsoon in season five. Now, the same trio is facing down beloved season seven queen Katya — and the odds are against them.
On Thursday, RuPaul will crown one of these four drag queens as the winner of All Stars 2, giving them $100,000, a heap of cosmetics and a place next to All Stars season one winner Chad Michaels in the Drag Race hall of fame. But how can fish without cable watch the crowning live?
Luckily, using Logo's free LogoTV app, anyone with a cable subscription (or a borrowed login for one) can watch the finale live. The app has a livestreaming function that works seamlessly. Unfortunately, Logo's website does not offer a similar streaming function.
If you don't have cable and live in a sizable city, however, your best option is finding a gay bar that is playing the finale. Most do — RuPaul's Drag Race is to gay bars what football is to sports bars — and it's a great environment to watch it in. What better way to get invested than to be around a bunch of people with opinions they are not afraid to share?
For those with cable, the episode airs at 8 p.m. Eastern on Thursday on Logo and VH1. The episode also becomes available the next day on Logo's website.