Ken Bone gets his own punny menu at Vinnie's Pizzeria in Brooklyn, New York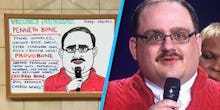 In the shelf-life of memes, it is only the beginning for Ken Bone, the indisputable star of 2016's second presidential debate. 
The debate, an "ugly, ugly spectacle," was nearly all darkness, save for the glimmer of hope presented by Bone, an undecided voter who asked the candidates about how they would pursue environmentally friendly energy options that also maintained American jobs. But it was probably (okay, definitely) Bone's cheerful red sweater that won over the internet. The memes rapidly rolled out like candy on a conveyer belt. 
Bone served as a collective exhale to viewers during Sunday night's fiasco, and while some will tire of #KenBone jokes sooner than others, his bespectacled mug is sure to last online longer than the classic 15 minutes of fame. 
Vinnie's Pizzeria of Brooklyn, New York, leaned in hard to Bone fandom, making an entire specials menu featuring dishes named with Bone puns:
Vinnie's updates its specials board regularly, and has been known to be playful and contemporary. The restaurant even has its own "Special Bored" tumblr.
Vinnie's has made headlines for other stunt-like moves in the past, like its inception-style pizza, which features a regular-sized pizza topped with smaller slices of pizza.
Whether the pizza shop staffers have a lot of time on their hands or they're simply insatiable artists matters not. What's important is that we can count on Vinnie's to bring together two of our favorite things: Pizza and memes.