Khloé Kardashian: Kim Kardashian West is "not doing that well" after Paris robbery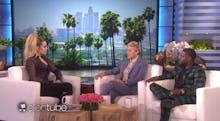 Kim Kardashian West is experiencing "emotional terror" in the wake of her recent attack in a Paris hotel room, sister and fellow reality star Khloé Kardashian said on an episode of Ellen airing Tuesday.
"Tell me how Kim is doing," DeGeneres asks in a preview of Tuesday's episode. "I'm sure everybody here in wondering."
"I mean, she's not doing that well," Kardashian says. "I mean, it's incredibly traumatic what happened to her, but our family is super close and great and we'll get through it together and we do appreciate all of your guys' love and support and it will take time. You know, it was horrible what happened to her."
Kardashian West was robbed at gunpoint in her Paris hotel room earlier this month while she was in the city for Fashion Week. She was reportedly tied up by her hands and feet as armed men, dressed as police officers, stole about $10 million in valuables. As more details about the attack emerged, it became clear just how frightening it must have been for Kardashian West and her family; reports suggested that Kardashian West feared she would be raped during the attack.
But the news of the attack also inspired legions of trolls to victim-blame Kardashian West and her family for somehow bringing the attack and robbery upon themselves.
In the days after the attack, the Kardashian-Jenner clan — who are used to sharing plenty of details about their personal lives on social media — were notably silent on their various platforms. E! even announced that filming for Keeping Up With the Kardashians was on hiatus. 
"Everything's shut down now?" DeGeneres asks in the clip — a seeming inquiry into the future of the show and the sisters' social media presence.
Kardashian responds that the attack was "a wakeup call," and says it's possible the family will "make adjustments" to the level at which they share details of their lives with the public.
"Like I said, we're a family we'll do this together," Kardashian says. "I think it's important to make those adjustments, and to pull back a little bit, I think is always smart."