Hillary Clinton polls: Here's how the candidate is trending week of Oct. 10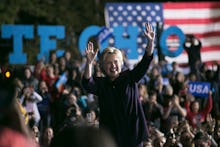 Over the weekend, reports detailed a distraught Donald Trump holed up in the penthouse of Trump Tower in New York City. But if Trump felt the release of a 2005 video where he seemed to say he committed sexual assault was too destructive to face, he may want to consider staying indoors until Election Day. 
Without a historic reversal of Trump's four-day collapse, Hillary Clinton will be president. Paul Ryan seems to think so. So do many Republican leaders. According to national polling averages, Clinton now leads Trump by about five percentage points, less than a month before Nov. 8. And across the spectrum of polling, it is difficult to find recent numbers that raise doubt about Clinton's chances.
The signs of a Trump collapse are everywhere.
Since Monday, election forecasts have dramatically increased Clinton's chances of victory. Sabato's Crystal Ball projects Clinton will win 341 electoral votes. FiveThirtyEight gives Clinton roughly an 80% chance of victory. And the New York Times has lowered Trump's chances to 13%
In comparison to this point in the 2012 race — an election President Barack Obama won by four percentage points with 332 electoral votes — Clinton's average poll numbers have surged when Obama's began to drop. For the first time in several weeks, Clinton has surpassed where Obama stood at this point in the 2012 race. 
Clinton won the second debate.
The second presidential debate may have been ugly and had fewer viewers than the first, but viewers still thought Clinton won. 
Clinton's unfavorables are dropping.
Clinton has faced double-digit net unfavorable ratings from voters for most of the primary and general election period. But in the last few weeks, her numbers have improved as Trump's improvement reversed. 
Obama's approval rating is another positive number for Clinton. At 55%, Obama is enjoying the highest approval rating of his second term. An approval rating above 50% for the incumbent president typically bodes well for the nominee from the president's political party. 
A majority of voters are happy with Obama, the thinking goes, so they will want to preserve his policy legacy. Clinton has tied her changes to Obama's legacy, framing Trump as a threat to what the Democratic president has accomplished.
Clinton's ground game is paying off.
Tuesday is the deadline to register to vote in 11 states, including Ohio and Pennsylvania; Florida extended its deadline to Wednesday due to Hurricane Matthew. And Democrats are expected to widen their margin among new registered voters. Between Jan. 1 and Aug. 31, newly registered Democrats already edged Republicans in by 6% in Florida — and the Democrats' substantial ground game is expected to deliver a larger margin in the last few weeks of voter registration. 
This is at least partially attributable to Clinton's massive ground game, in contrast to a Trump campaign with few state-by-state resources. 
Turning out voters is always key for both parties. And the efforts may be more likely to pay off for Clinton: Polling continues to show more ardent and leaning Democrats than Republicans nationally. And though independents are larger than either group, Clinton continues to build a lead among that key voting block. 
Early voting may seal the election before Nov. 8.
In yet another way, #TrumpTapes and the Republican candidate's dirty debate performance could not have come at a worse time. Early voting has begun in states across the country, and even before Trump's latest scandal, the numbers looked good for Clinton.
In Florida and North Carolina, must-wins for Trump, early indicators give Democrats a slight edge: Florida Democrats were requesting absentee ballots in higher numbers than Republicans, though Florida Republicans had a slight lead in requests for mail-in ballots; and in North Carolina, more Democrats were requesting mail-in ballots, the New York Times reported. On Monday, Clinton was in Michigan and Ohio promoting early voting in an attempt to run up her margins before Election Day.
If these numbers are not enough, look at the post-#TrumpTapes polls. In one, from NBC News and the Wall Street Journal, Clinton's lead jumped to 11 percentage points in the four-way presidential race.