Illinois mom gives epic response to company who fired her daughter for having dreadlocks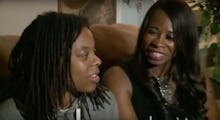 A mother of a teen fired from her new job for wearing dreadlocks gave the best response to an on-air reporter about the discrimination black women face for their hair.
Tyler House, a 16-year-old high school student in Olympia Fields, Illinois, was hired after nailing her interview to work at the Marcus Country Club Hills Cinema. When she showed up for her first day of work, according to Clutch Magazine, her assigned manager took her aside and informed her that dreadlocks are not allowed — and then fired her. 
During a video interview with WGN TV, House's mother, Darnetta Herring, perfectly called out the discrimination against her daughter for her dreadlocks. House has been growing her dreadlocks for more than five years.
"Why is it that dreadlocks are not permitted in your employees, but it's OK for us to spend our dreadlock money in your company?" she told WGN TV. "I don't understand. They come to an African-American neighborhood, but they discriminate against some of us. I don't understand it."
The movie theater later released a statement condemning their discriminatory policy.
"This week we learned that a job candidate at our Marcus Country Club Hills Cinema was turned away because she wore dreadlocks," the statement read. "Some have expressed concern, and their reaction has led us to re-examine that decision."
They also stated that they have removed the no-dreadlock policy.
"Effective immediately, no job candidate will be disqualified because they wear dreadlocks."