Shailene Woodley's arrest for Dakota Access Pipeline protest overshadows the real issue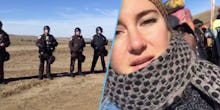 On Monday, Divergent actress Shailene Woodley was arrested in North Dakota where she was participating in a peaceful protest of the Dakota Access Pipeline, a planned $3.7 billion, 1,168 mile-long pipeline that would stretch from North Dakota to Illinois.
Woodley was lending support to the indigenous activists who have been on the ground for months, fighting the construction of the pipeline, which they say threatens both the water supply and land that is sacred to local tribes.
Protesters have faced violent retaliation from security forces working for the Dakota Access Pipeline company.
It was during a clash at a construction site on Monday that Woodley was arrested along with 27 other, not-famous people, the BBC reported. Woodley was charged with a $500 fine and released the same day, USA Today reported. 
As a celebrity, the arrest of Woodley, who documented Monday's protests via series of Facebook live videos, is naturally grabbing headlines. And while her Hollywood status has the potential to call attention to the matter, much of the coverage fails to identify the issue at hand.
In early September, peaceful protests turned violent when security guards hired by the Dakota Access Pipeline used dogs and pepper spray against the activists. Steve Sitting Bear, a spokesperson for the Standing Rock Sioux tribe, told NBC News that six people, including a child, suffered dog bites, and dozens were pepper-sprayed.
A spokesperson for Morton County Sheriff's Office told NBC a different narrative, noting four security guards and two guard dogs were hurt in the clash, but denying any reports of injured protesters.
"This is sacred land," Ladonna Allard, a member of the Dakota Sioux, told the Guardian, speaking from the Sacred Stone Camp in August. "This is not about trying to be a protester ... I am a mother. My son is buried at the top of that hill. I can't let them build a pipeline by my son's grave."
On Sept. 9, the U.S. Department of Justice ordered that construction on the pipeline be halted until the legal concerns raised by the Standing Rock Sioux Tribe were addressed. But construction resumed on Monday after the U.S. Court of Appeals for the District of Columbia rejected the tribe's request for an injunction that would stop the building of the pipeline, the Los Angeles Times reported.
Woodley may or may not return to the encampment and continue protesting — but members of the Standing Rock Sioux Tribe and the other Native American activists and allies who have gathered seem prepared to carry on their fight indefinitely. The question is, if Woodley isn't there, will anyone know?