'Overwatch: Halloween Terror': Skins, costumes and what to expect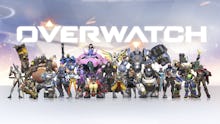 Popular online first-person shooter Overwatch is set to kick off a Halloween-themed event full of premium holiday content. If the rumors are true, a new character and skins inspired by Halloween costumes could arrive within the next 48 hours.
The news come by way of Overwatch's Taiwanese website, which leaked a promotional image of Roadhog sporting one of the Halloween skins. In the image below, an Oct. 12 release date is clearly visible, though an earlier version on the same site allegedly said Oct. 11. The likely explanation: VG247 translated the post to read a release of 3 a.m. Korean Time (Oct. 12). That's 11 a.m. PST today, Oct. 11. 
Overwatch: Halloween characters and skins
The update supposedly introduces Sombra, a character Blizzard has been teasing for months. Early details suggest she is a hacker of some sort, armed with a submachine gun and "special gloves." The Halloween skins will be there as well. From Digital Trends:
A leaked comic book suggests that Mercy will get a witch costume, Reaper will be decked out with jack-o'-lanterns and Junkrat and Roadhog will be dressing up as Frankenstein and his monster. In fact, those last two characters might be at the center of a brand new game mode.
The game mode mentioned is apparently called "Zomnics," a feature in which players team up to defend a castle from zombie Omnics. 
The Overwatch community is patiently waiting for the new patch to arrive. If all goes well, fans will be able to update later today.