Donald Trump, meltdown continuing unabated, says, "the shackles have been taken off me"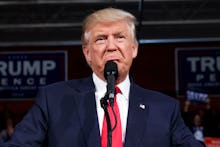 Here's another for the "never tweet" file.
One day after Speaker of the House Paul Ryan said he would not campaign with or defend Donald Trump for the rest of the campaign, the Republican presidential nominee unleashed a flurry of attacks on the Republican leader and compared his own perilous political situation to someone being freed from bondage:
The "shackles" tweet immediately evoked images of slavery that did not go unnoticed on Twitter:
Furthermore, if Trump has been "shackled" until now, what will an "unshackled" Trump look like?
The "shackles" reference also brought to mind a controversy from the 2012 campaign in which Vice President Joe Biden told a largely African-American crowd that Republican nominee Mitt Romney would "put y'all back in chains." Biden was roundly criticized for the remark at the time.
The tweet was part of an onslaught Trump unleashed against Ryan and his fellow Republicans Tuesday morning, in which he called the speaker a "very weak and ineffective leader":
Adding another layer of intrigue to Trump's outburst was the source of the tweets themselves. When Trump personally tweets from his account, he's widely believed to do so via Twitter for Android. Tweets from an iPhone or the Twitter website are reportedly from Trump staffers.
The "shackles" tweet was sent from an iPhone, indicating it was sent from a staff member. The tweet about Ryan being an "ineffective leader" was sent from Trump himself, and the missive about GOP disloyalty came from the Twitter web client.
Apparently his staff is finally letting Trump be Trump. As if they could stop him.