Kim Kardashian West faked Paris robbery rumors circulate — here's how she's fighting back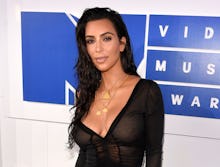 Kim Kardashian West is aiming to take out MediaTakeOut.com. 
Displeased at the coverage she received from the gossip site after she was robbed in her hotel room during Paris Fashion Week, the reality TV star filed a federal lawsuit on Tuesday, according to another gossip site, TMZ. Kardashian West is calling libel on MediaTakeOut and its owner, Fred Mwangaguhunga, for three posts published in the wake of the incident, including one that suggested she staged the whole thing. 
According to Entertainment Tonight, one of the stories in question — all of which have since been deleted — ran under the headline "MTO shock exclusive: New evidence suggests... Kim Kardashian and her mother 'staged' the robbery... just like Ryan Lochte!! (Here are the facts)," while another stated that "if she faked the robbery ... she just committed a federal crime." 
"After having been the victim of a horrific and traumatic armed robbery in France, Kim Kardashian returned to the United States only to again be victimized, but this time by an online gossip tabloid that published a series of articles in early October 2016 referring to her a liar and thief," Kardashian West's lawyer, Andrew Brettler, wrote in the suit, according to the Hollywood Reporter. 
Judging the incident by the details People provided, "traumatic" seems a particularly apt descriptor: Masked men disguised as police barged into her room at the No Address Hotel in the early morning hours of Oct. 3, People reported. Threatening her with a gun, the men tied her up in the bathroom and locked her in, absconding with about $10 million in jewelry and two cell phones. 
"She thought there was going to be a sexual assault or that she was going to be killed in the bathroom," a source told US Weekly. 
It is understandable, then, that Kardashian West — who has kept an uncharacteristically low profile since the robbery — is "not doing that well," as her sister, Khloe Kardashian, recently told Ellen DeGeneres on Ellen. That's to say nothing of the ordeal being parodied as an insensitive Halloween costume, and various tabloids speculating that she faked the attack to boost lagging Keeping Up With the Kardashians ratings. (KUWTK, for the record, indefinitely suspended filming after the robbery.)
"Besides the fact that it would not only be uncharacteristic of Kim to lie about something like this, she'd never put herself in this kind of danger," an anonymous source told ET. "They wouldn't do something like this for a reality show. She was scared for her life."