Green Day's 'Revolution Radio' exposes cracks in the kings of pop-punk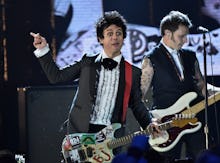 Two years ago, as Green Day frontman Billie Joe Armstrong was driving into Manhattan, he stumbled upon a large mass of protesters. They were organizing for Black Lives Matter, sparked in the wake of Michael Brown's killing. "I got out of my car and marched with the people," Armstrong told Rolling Stone. "It was a trip to see people rebel against the old order." 
This was the moment Revolution Radio, Green Day's 12th studio album, was born. But when actually listening to the record, however, it's hard to hear any of this genuine fervor. All of Armstrong's passion he's been attesting to in promoting the album is lost in recyclable metaphors of rebellion. 
The infectious punk-pop melodies that made the Bay Area trio famous are all there. But at a time when there's so many current social and political developments to actually be mad about — which have been so artfully torn apart by other artists who don't generally stake their brands on political commentary — the fact they appear so throughly glossed over in Green Day's lyrics feels an egregious misuse of the punk label they cherish.
Rather than focus on BLM, Green Day opts for the time-worn language of punk protest. "We are revolution radio/ Operation 'no control,'" Armstrong shouts on the album's title track. "Give me cherry bombs and gasoline/ Debutantes in surgery/ And the headline 'Legalize the truth.'" 
In many ways they're classic pubescent Green Day lyrics, appropriate for the middle school parking lot and few other places. What Green Day misses is the opportunity to update their formula for a new political moment. Instead, listeners receive the music that's attempting to soundtrack youthful discontent as always, but without enough fun or political import to make for a satisfying listen.
Take, for example, the album's first single: "Bang Bang." In an interview with Rolling Stone, Armstrong described how the song touches on the culture of mass shooting in America. "To me, that is so twisted," he said. "To get into the brain of someone like that was freaky." 
The song's chorus — "Bang, bang, give me fame/ Shoot me up to entertain/ I am a semi-automatic lonely boy" — delivers a more salient political message than Revolution Radio, but it becomes fodder for a misguided music video that undermines the critique the song is trying to make. 
The video for "Bang Bang" features avatars of the band members donning face masks and robbing a bank. While Green Day's singing serves as the background about the problem of mass shooting in America, a souped-up Hollywood bank robbery narrative steals the show — more violence to "entertain," to quote the song's own lyrics.
The album does feature some interesting musical moments, such as alternating contemplative guitar and punk power chords in "Somewhere Now." One of the most successful songs, "Still Breathing," powers forward with an infectious set of thumping verses. And the album ends with a somewhat out-of-place, but lovely, acoustic ballad called "Ordinary World."
Revolution Road is far from a total musical disaster. Many of the songs are catchy and sound like the Green Day millions of fans around the world love. But through the cracks we see a musical style that isn't quite confident enough to face America's current political and social woes. The end result is like the flaming boombox on the album's cover: an apparatus that once made sweet, vital music but is long past its prime.
October 11, 2016, 2:46 p.m.: this story has been updated.