Florida presidential polls: Is Donald Trump or Hillary Clinton leading in Florida?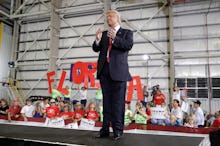 Donald Trump is heading to Florida on Tuesday night to rally voters in a state where his opponent Hillary Clinton is leading in the polls.
Latest Florida polls show slight Clinton lead
An Opinion Savvy poll released Wednesday gave Clinton a 47% to 44% lead over Trump, with Libertarian Gary Johnson at 5% and Green Partyer Jill Stein at 1%.
According to a poll released Sunday by NBC, the Wall Street Journal and Marist, Clinton leads Trump 46% to 44% in the Sunshine State.
However, the poll was taken from Oct. 3 to 5, before Hurricane Matthew hit, before the two candidates faced off for their second presidential debate in St. Louis and before the release of a 2005 videotape showing Trump using language that was predatory towards women.
In a four-way race, including the two third-party candidates, Clinton holds a 3-point lead over Trump among likely voters in Florida.
How Florida's demographic groups are voting
Clinton has strong support among African-Americans, Latinos, women and young voters in Florida. And Trump leads with men and whites. Trump's support is strong with whites without a college degree (69%-29%). Among whites with a college degree Trump is still in the lead, but only by a 4-point margin.
Florida polling averages
The RealClearPolitics polling average shows Clinton polling at 45% in a four-way contest — a 2-point edge over Trump's 43%. In a two-way contest, she leads him 47% to 44%.
FiveThirtyEight gives Clinton a 76.1% chance of winning the state on Nov. 8.
Mic has ongoing presidential coverage. Please follow our main election hub as well as coverage of Donald Trump and Hillary Clinton.