Donald Trump polls: Here's how the candidate is trending the week of Oct. 10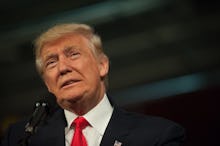 We have reached the low-point of Donald Trump's presidential campaign. No, really. 
Throw aside the controversies that have followed Trump since the first presidential debate. Go ahead and dismiss the last four days, among the most destructive for any modern presidential nominee. Just take a look at cold, hard facts: Trump is in deep trouble.
Latest presidential polls show Trump trailing badly
Start with his poll numbers. Three weeks ago, just before the first presidential debate, polling averages had Trump close to Hillary Clinton. No more. Clinton now leads Trump by about five percentage points in the four-way presidential race nationally. Some polls conducted partially or entirely after Friday afternoon — when the 2005 recordings of Trump suggesting he engaged in sexual assault surfaced — give Clinton double-digit leads. 
Trump is now under 40% support in the RealClearPolitics national polling average — his lowest showing in recent weeks. 
Polls show Trump lost the second debate.
Despite Trump citing many unscientific polls to the contrary, voters gave Clinton the edge in the second presidential debate. 
Trump's unfavorable ratings are on the rise.
But in the last week, they had reversed. While the percentage of voters who viewed Trump unfavorably was at 62.7% in late August, the number had improved to 57.6% last week. Now, Trump's unfavorables are rising again.
Trump is underperforming Mitt Romney's numbers.
The presidential election is not over yet. With a polling average under 40%, Trump is now 6.5 points behind where Romney was at this point in the 2012 election. The Republican would go on to win a little more than 47% of the vote in his loss to Barack Obama.
Earlier this year, it appeared Gary Johnson and Jill Stein could shave several percent of general election votes. Johnson drew nearly 1% of the popular vote in 2012. But since this time last month, both Johnson and Stein have lost a combined 3.3 points of support among voters in polls. Meanwhile, Clinton has risen to her highest level of support in the polls since polling of the four candidates began.
With minimal third party opposition in 2012, Obama won with 51.1% of the vote and 332 electoral votes. Under the best case scenario for Trump, he would need to see about a three-point swing in his favor nationally without Clinton drawing any more support from the third party candidates. 
Whatever maneuver Trump has up his sleeve to turn things around, he had better play it fast. Election day is less than a month away.