This devastating campaign ad shows why the #TrumpTapes could take down more than Trump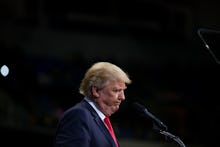 The recently unearthed footage of Donald Trump, in which he lewdly boasts about touching women without their consent, has begun to make its way into campaign attack ads — and the result could be devastating not only for Trump, but for down-ballot Republicans.
Trump's words — in which he bragged about being able to grab women "by the pussy" because he is famous and he could "do anything" — have contributed to a plummet in his poll numbers, putting him at his biggest polling disadvantage to Hillary Clinton since her post-Democratic National Convention bounce in August.
And now, down-ballot Democratic House and Senate candidates are beginning to use those same words against their Republican opponents in campaign ads, tying GOP candidates to their support of a man who bragged about sexual assault.
The effects of Trump's leaked comments could play the most in New Hampshire, where incumbent Republican Sen. Kelly Ayotte is locked in a competitive re-election fight against Democratic Gov. Maggie Hassan.
Ayotte's own words are now coming back to haunt her, after she said at a debate that Trump is "absolutely" a "role model" for kids.
Ayotte since walked those words back, and even disavowed Trump's candidacy after the tape of his 2005 comments was released over the weekend.
But her praise of Trump is now being used against her in a new attack ad by Hassan's campaign, which juxtaposes Ayotte's laudation of Trump against a montage of Trump's past derogatory comments about women.
That race is currently a dead heat, but ads like this could help blow the contest open.
And new polling shows that Republicans who had yet to disavow Trump are in a near-impossible position moving forward.
Republicans who disavowed Trump after the tape face blowback from the GOP base, which stands by their nominee and wants Republican elected officials to as well.
And Republicans who don't withdraw support from Trump face a backlash from independent and moderate GOP voters who are no longer standing by the bombastic businessman.
GOP Senators facing that dilemma include Pennsylvania Republican Sen. Pat Toomey, who is slightly behind his Democratic challenger, Katie McGinty.
Toomey has blasted Trump for the video comments, but hasn't disavowed Trump yet — a line of attack that could come up, with the video, in future ads.
With control of the Senate in the balance, Democrats need to net just four seats and the presidency to win back control.
The Trump tape could help that possibility become a reality.