'Game of Thrones' season 7 spoilers: The North's flawless Lady Lyanna Mormont will return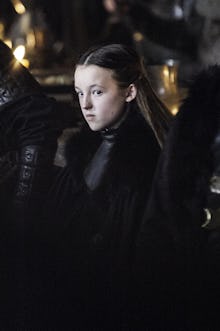 Game of Thrones' sixth season didn't short-change its viewers with moments of badass female empowerment. In fact, by the end of the year, women were effectively dominating Westeros (with Cersei Lannister quite literally ruling the land) — perhaps none more so than the series' newest breakout star: a 10-year-old.
She had dialogue in only two scenes, but Lyanna Mormont quickly became a fan favorite with her relentless sass and resolve as the head of House Mormont. She rallied other Northern lords to proclaim Jon Snow the new King in the North by calling out and shading said lords for refusing to fight against Ramsay Bolton. In short, she's a badass we'd love to see more of.
Thankfully, it appears HBO will heed the fans' wishes. Per the eagle-eyed Game of Thrones fan site Watchers on the Wall, Lyanna actress Bella Ramsey was spotted on set, filming on the same day as Kit Harington, Liam Cunningham and Gwendoline Christie — all of whom's characters were still posted up in Winterfell when we saw them last. 
It's not a surprising move, of course. Aside from her effortless grace in talking down lords thrice her age, Lyanna holds a lot of importance in the North being at the head of one of its most revered houses. Also, with the White Walkers lurking just beyond the Wall, Jon Snow's going to need all the help he can get in season seven. 
Plus, would HBO really want to deal with this soul-crushing scowl if they left her off-screen?