3,000 sexual assault survivors tell the GOP to stop enabling Donald Trump in full-page ad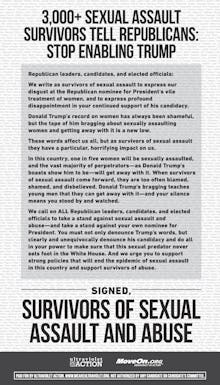 A coalition of more than 3,000 sexual assault survivors wrote an open letter to the Republican party demanding them to withdraw support from presidential nominee Donald Trump in a full-page ad in the Washington Post on Tuesday.
The letter condemns GOP leaders, politicians and candidates for continuously supporting Trump despite his long history of engaging in misogynist behavior and making sexist remarks. 
The ad was paid for by the UltraViolet Action, a national women's advocacy group, and MoveOn.org Political Action Committee. Shaunna Thomas, the co-founder of UltraViolet Action, released a statement denouncing Trump as a "dangerous, predatory misogynist and the living embodiment of rape culture." 
"With one-in-five women in the U.S. facing sexual assault in their lifetimes, it's because of men like Donald Trump and his political allies that this national epidemic is so intractable," Thomas said, according to the statement. "Republicans must do more than just disavow these horrific comments — they need to actively denounce Donald Trump and his campaign for president. Survivors of sexual assault deserve better."
The Washington Post released a tape on Friday of Trump talking about grabbing women by their genitals and getting away with it since he's a celebrity.
"Grab them by the pussy," Trump said in the tape. "You can do anything."
When Anderson Cooper asked the GOP nominee during Sunday's debate if he understood those comments are constituted as sexual assault, Trump aggressively disagreed.
"No," Trump replied. "I didn't say that at all. I don't think you understood what was said."
Shortly after the audio of the presidential candidate's lewd comments were released, House Speaker Paul Ryan canceled his first joint appearance with Trump. Yet despite repeatedly denouncing Trump's actions and remarks, Ryan is one of many Republicans who has yet to withdraw his endorsement of the GOP presidential nominee.
Perhaps the words of over 3,000 sexual assault survivors can convince him.