Comcast overcharged customers, must pay record-breaking $2.3-million fine, says FCC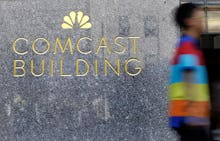 Think Comcast overcharged you? You may actually be right. 
The largest cable and broadband provider in America just got slammed with a $2.3-million fine, the largest civil fine ever levied against a cable company, for billing its customers for services they didn't actually ask for, according to an FCC announcement released Tuesday. 
Thousands of accounts were allegedly affected, an FCC spokesperson said in an email to Mic. 
In addition to extra premium channels, many consumers complained that they were billed for additional hardware like digital video recorders, and that they weren't aware of the extra charges until parts arrived in the mail. 
"It is basic that a cable bill should include charges only for services and equipment ordered by the customer — nothing more and nothing less," Travis LeBlanc, chief of the FCC's enforcement bureau, said in a prepared statement. 
The $2.3-million civil fine isn't exactly devastating for Comcast, whose most recent quarterly earnings were more than $2 billion. 
That said, the company will have other obligations as well. 
As part of a five-year compliance plan, Comcast will have to demonstrate that it is getting "affirmative informed consent" from its customers before charging for additional services. 
The company will also have to give customers a way to block future services from being added on to their bills — at no extra cost — per the FCC's requirements. 
"We do not agree with the Bureau's legal theory here," a Comcast spokeswoman said in an emailed statement to Mic, adding that there was no admission of wrongdoing. 
The company agreed to the fine so it could "continue with the important work we were already doing," she said in a phone interview.