Here's why Erie is like no other county in Pennsylvania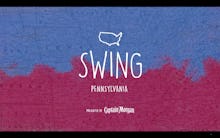 This video is part of Swing, a Mic branded content series, in collaboration with Captain Morgan, profiling unique communities in swing states across America. For more information about Mic's branded content guidelines, please visit our FAQ page.
There's one Pennsylvania county that's swung blue in every election since 1985. It's called Erie, and it's home to one of Pennsylvania's oldest LGBTQ communities. Come take a visit.