'Drunk History' tackles the Stonewall riots with Trace Lysette and a tipsy Crissle West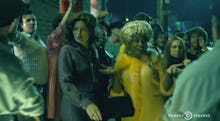 The twisted, brilliant minds behind Comedy Central's Drunk History will air an episode Tuesday night telling the story of the 1969 Stonewall riots and the trans women who helped launch the LGBTQ rights movement.
The segment is narrated by a very tipsy Crissle West, comedian and co-host of The Read podcast, and stars trans actresses Trace Lysette as Sylvia Rivera and Alexandra Grey as Marsha P. Johnson, both of Transparent.
The Drunk History version of the Stonewall riots may be sloppy, but it places trans women right where they belong — squarely in the middle of the narrative, something Roland Emmerich's 2015 film Stonewall famously failed to do.
Lysette spoke to Out about the importance of telling the story of the LGBTQ rights movement, even if it's on a comedy series. 
"I think getting people engaged by whatever means is the goal," Lysette told the outlet. "So if comedy is what lures people to watch a show about the birth of the Gay Liberation Movement — if comedy is the in, the thing that cracks the door open — then so be it." 
"For me, it's OK," she continued. "Of course, it's a serious topic, but conversation is how you heal and how you grow and create change."
The segment will air on Tuesday night's episode of Drunk History at 10:30 p.m. Eastern on Comedy Central, but it's also available on the Comedy Central website here.
Correction: Oct. 12, 2016