Meet 4 Syrian refugee girls who are refusing to give up on their dreams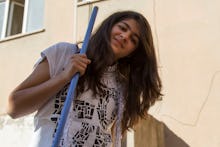 In refugee settlements in the Turkish cities of Mardin, Antkaya and Gaziantep — just 47 kilometers north of Aleppo, Syria — young Syrian girls aren't letting war, destruction and displacement crush their dreams.
Theirworld, an international children's charity, traveled across Turkey to visit schools in refugee settlements to uplift young girls, hone their own skills and spotlight their talents in a photo collection. The series was released on the International Day of the Girl, which was established by the United Nations to emphasize the importance of gender equality. It is celebrated every year on Oct. 11.
Meet a few of the girls from the photo series below.
Haj, 13, fled her home in Aleppo for Mardin, Turkey, three years ago. 
After joining the local acrobatics and dance company, Haj started stilts-walking and hip-hop dancing. She also learned how to speak Turkish fluently.
Farrah, 16, fled to Gaziantep from her home in Aleppo. 
Before fleeing to Gaziantep, Farrah had never performed as an actress. In her new school, she joined an amateur theater company where they put on a silent play to reflect their emotions and feelings about the Syrian conflict.
Ethar Kassab, 15, wants to be an engineer. She fled Aleppo with her mother, sister and brother to Gaziantep. Her father, a school teacher, stayed in Syria. She hasn't seen him since.
After school, Kassab and her brother attend an after-school club to learn how to operate and program robots. The class is run by a group of Syrian engineers and physics teachers.
Tasneem, 16, is a world-class table tennis player. In fact, she won the 2013 Arab world championship title for her age group. 
Tasneem fled to Antakya from her home in Hama, Syria. After hearing about Tasneem's story and her accomplishments in table tennis, President Tayyip Erdo?an provided her with a Turkish passport and citizenship.