Presidential polls 2016: Where the candidates stand nationally 2 days after debate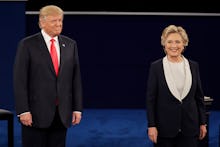 Hillary Clinton maintained her massive lead over Donald Trump after Sunday night's second presidential debate, according to a new NBC News/Wall Street Journal poll released Tuesday afternoon, besting him by a 9-point margin in a four-way race.
In a two-way match-up, Clinton leads by a 10-point margin, earning 50% to Trump's 40%.
Latest presidential polls show Clinton still leads Trump, but by a bit less
Clinton's lead is slightly lower than the 11-point margin she held over Trump in a four-way race, and the 14-point spread in a head-to-head matchup, before the debate.
However being down by a 9-point spread from an 11-point deficit one day earlier is nothing for Trump to cheer about, with early voting already underway across the country, and less than 28 days remaining to make up ground.
Trump's slight uptick after the debate is thanks to a consolidation in support from Republicans. Before the debate, 74% of Republicans said they backed Trump in a two-way race. That number now stands at 89% after the debate.
At this point in 2012, President Barack Obama led GOP nominee Mitt Romney by less than one point, according to the RealClearPolitics polling average.
Now, Clinton leads Trump by an average of five points in the four-way RealClearPolitics average, and 6.5 points in a head-to-head race.