Ohio presidential polls: Is Donald Trump or Hillary Clinton leading the race in Ohio?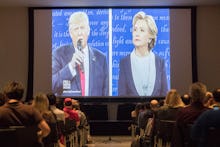 Hillary Clinton has a four-point lead over Donald Trump in the highly coveted swing state of Ohio, according to a recent poll.
In a four-way poll that includes the top two third-party candidates, Clinton has 46% of support among likely voters, a CBS News/YouGov poll conducted from Oct. 5-7 found. Trump is not far behind with 42%.
The poll reflects voters' views on the release of a 2005 video showing Trump making vulgar comments about women, but it was conducted before Sunday night's contentious second presidential debate took place.
The poll was taken from a sample of 997 likely voters and has a margin of error of plus or minus 3.9%.
Who's leading the Ohio poll averages?
That survey dovetails with a trend toward Clinton in the most recent polls — a development that comes after Trump had seemed to gain steam in the Buckeye State.
The RealClearPolitics polling average now gives Clinton a 46% to 45% edge in a head-to-head contest.
Why is Ohio so influential in presidential elections?
Since 1944, Ohio has a nearly perfect record of picking the winner of the presidential election. The only year voters got it wrong was in 1960 when they chose Richard Nixon over John F. Kennedy, according to 270towin.com.
President Barack Obama will head to the Buckeye State later this week to encourage Americans to vote early. That he is making this plea in a state that will certainly be a major player in the outcome of the election is not by accident.
And Clinton clearly wants as many Ohioans to come out to vote as possible because she needs the state's 18 electoral college votes to win the White House. The CBS News/YouGov poll also found that 95% of those surveyed said they planned to vote on Nov. 8.
FiveThirtyEight predicts that Clinton has a 60.4% chance of winning Ohio.