Sweet sounding headphones for the holiday — from Beats, Sennheiser and more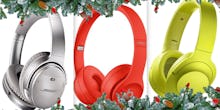 Gifting headphones for a holiday is no joke. Before you just roll into an electronics store and purchase blindly, know that you get what you pay for when it comes to electronics. True, some of these headphones are on the pricey side, like the $350 wireless headphones from Sony. But it's an investment worth making and is a cool way to make a personal statement— with options as stylish as the shoes on your feet.
In choosing the 10 headphones below, we considered professional and consumer reviews, pricing, sound quality and design. Some of them have classic appeal like the Sennheiser's Momentum headphones, while others are more modern-looking, like Sony's h.ear On Wireless Noise Cancelling headphones.
If you enjoyed our Kardashian gift guide, check out these 10 headphones picks we hunted down for you.
Editor's note: Prices and product availability are subject to change throughout the holidays.
For Altec Lansing's first collaboration with a celebrity, they tapped Nick Jonas. Being a musician since childhood, the 24-year-old knows a thing or two about sound quality. These rose gold noise-cancelling headphones are also wireless.
Master & Dynamic MH40 Over Ear Headphone, $399
Technology is so disposable these days that it almost feels normal to go through products yearly. But these leather strapped headphones claim to be built for years of use with their oxygen-free copper woven cables —at over $400 with taxes, they should last decades.
Sharper Image Foldable Headphones With In-Line Mic, $12.99
These babies are the least expensive in the group, but still pack a punch in sound. Foldable in a brightly colored fabric, they come with a microphone to switch from music to phone calls.
Bose QuietComfort 35 Wireless Headphones, $349.95
Serious audiophiles can listen to whatever they please confidently with these headphones by Bose, made with Acoustic Noise Cancelling technology that "continuously measures, compares and reacts to outside noise—then cancels them with the opposite signal." Highly rated across retailers, they are known for being made from impact-resistant materials and for their long-lasting 20-hour charge.
Sony XB950AP EXTRA BASS Headphones, $119.99
Great for music makers, this Sony product has featured technology that intensifies bass and vocals while lowering subwoofer feedback when playing music. The adapted technology in these headphones also balances beats and comforts the ears. Note: These may be a nice gift for your DJ friend.
Sony h.ear ON WIRELESS Noise Control, $300
Yes, a large part of the appeal with these headphones are its color options. But when you consider that they're wireless and cancel out noise from your environment, there's no second guessing this purchase.
Beats Solo3 Wireless On-Ear Headphones x (PRODUCT)RED, $299.95
If gifting a loyal Beats customer, you should put these (PRODUCT)RED ones on the top of your list. They have 40 hours of battery life, instantly connect with Apple products and proceeds from sales go to Project Red, Bono's organization that brings awareness to HIV on a global scale.
Beyerdynamic MMX 102 iE in Black/Silver, $79
If you want to gift ear buds, make sure they securely stay in with movement and pack as much sound as traditional headphones. These ear phones with silicone inserts have a microphone for talk and block out sound.
Sennheiser MOMENTUM On-Ear 2, $179.95
Sennheiser's new MOMENTUM headphones are lightweight and made with soft Alcantara fabric for comfort. What's also great about these headphones is that their in-line remote supports all Apple devices as well as Android tablets and smartphones.
Sennheiser GSP 350, $139.95
We couldn't have a headphone guide without something for the gamers. This chunky piece was engineered for PC gamers with 7.1 Dolby Surround Sound and boom arm to talk to others playing virtually.
This month, Mic Essentials brings you handpicked deals, reviews, recommendations and gift ideas. For more ideas, see our lists for High-Tech Beauty, Watches, and Makeup Kits. If you buy something through a link on this page, Mic may earn a small commission.