10 high-tech beauty tools for the holidays — from NEWA Skincare System and more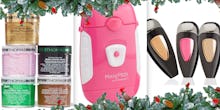 High-tech beauty tools for holiday are everywhere you look, for good reason. Advancements in the beauty industry happen every day, with essentially an innovative device existing for just about every need.
And while the items in this list are on the expensive side, they'll eliminate the need to book appointments for treatments such as laser hair removal, Botox shots and even a basic manicure. Consider them an investment. Using at-home high-tech beauty tools save money in the long-run (those tanning bed sessions add up) and still treat yourself to spa-like services.
Bottom line: High-tech beauty requires a bit of research on the inner workings of the device and your individual tolerance to the treatment, to save time and money.
From a self-tanning apparatus to a towel warmer, we searched all over to bring you these high-tech beauty options for gift giving in 2016.
Editor's note: Prices and product availability are subject to change throughout the holidays.
This handheld airbrush device is not for the makeup rookie. Included is a highlighter and bronzer to add a Beyoncé-Pretty Hurts-glow to anywhere on the body sprayed with the adapter.
Magic makeup, yay! Our excitement is valid with this foundation stick that goes on undetected, touching up flaws and making them invisible to a super-focused 4k lens. This is a good item to carry for those spur-of-the-moment glam Snapchats.
OK, so this face mask kit isn't "high tech" in the sense that it requires an electric current, but it is pretty awesome. Hungarian skin guru, Peter Thomas Roth essentially put five clinically tested masks for common skin problems like acne and dullness in one set.
Unwanted hair growth, quite frankly, sucks. Plucking can cause ingrown hair. Shaving (feels like) it makes hair grow faster. And waxing, just hurts. But this Food and Drug Adminstration-cleared technology from Illumniage promises to deliver permanent results for hair removal on targeted areas.
Specifically made to penetrate thick and oily skin, the star of Clarisonic's four-piece Alpha Fit set is the Daily Cleanse brush head. the short bristles move 300 movements per second and wipe away sweat, dirt and other impurities from skin.
Thick curls can be given serious definition with this 1-inch tourmaline/ceramic styling tool from Bed Head. It heats up all the way up to 400 Fahrenheit but also comes with a heat protective glove to avoid accidents.
This self-tanning kit from Arialwand beats lying in a tanning bed to get that sun-kissed appearance. Odorless and loaded with two 1.5-ounce bottles of color, the wand allows for full body coverage to show off your "tan" from your Miami Beach vacation —when we all know you spent the entire trip at nightclubs or in the hotel recovering post Wet Willies.
For the person who hates clipping their nails, largely due to the mess it makes, this is a awesome gift option. Laurant created this battery-powered tool that clips and buffs nails, collecting nail filings at its base.
The last time you probably saw one of these was in a nail salon to sanitize towels for customers. But for someone who likes that full-on spa feel when doing their nails at home— or for the student running a little mani/pedi side hustle from their dorm room— this is a smart buy.
Sold at high-end stores like Bergdorf Goodman and Neiman Marcus, NEWA developed an at-home solution for rebuilding facial collagen. Its patented radio frequency technology locked up in this tiny white tool, sends a message to the deep layers of skin to tighten up.
This month, Mic Essentials brings you handpicked deals, reviews, recommendations and gift ideas. For more ideas, see our lists for shoes, bags, health nuts and zen spirit. If you buy something through a link on this page, Mic may earn a small commission.