Taylor Swift release date: Have fans cracked the code?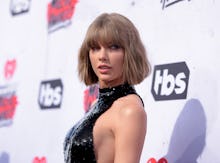 Taylor Swift has been on a tight two-year album cycle ever since releasing her self-titled debut back in 2006. There have been no deviations, no excuses, no prima donna "I need more space to create" talk. 
Guess what? It's been two years since Taylor Swift's last album 1989 came through like a hurricane, breaking nearly every sales record in its path. Like bears awaking from hibernation, Swifties are popping up on Twitter again with a lot of new chatter about Swift's new album. 
They can smell it in the air, and many believe it's coming very soon. 
Four out of five of Swift's albums have come out in October, the only exception being Swift's Fearless, which dropped in November 2008. Fans have dug into some deep Swift numerology to pinpoint a release of October 23, 2016, a Sunday. 
Here's a rundown of the evidence:
It'll be one day after a major national performance.
Swift doesn't have many upcoming gigs on the books, but she does have two: One the day before the Super Bowl and another at the Grand Prix in Austin, Texas, on October 22. The Grand Prix is not exactly the kind of major venue that she's usually used to selling out, but it could be a great way to announce a return to her country, Americana roots, if that's the way she's choosing to go. Lady Gaga's heading that way, and she's also made sure she's got a spot in this year's Super Bowl.
It'll be close to the 10-year anniversary of her debut.
On October 24, 2006, Taylor Swift officially began her conquest of both the pop and country worlds, releasing her self-titled debut. There's no better way to lock in that domination than by releasing another chart decimator. It'll have a bit of competition from Lady Gaga's Joanne, which drops Oct. 21. 
There's some numerology behind it, too.
As any good Swiftie knows, Taylor Swift's favorite number is 13. "I was born on the 13th," she explained to MTV News in 2009. "I turned 13 on Friday the 13th. My first album went gold in 13 weeks. My first No. 1 song had a 13-second intro. Every time I've won an award I've been seated in either the 13th seat, the 13th row, the 13th section or row M, which is the 13th letter."
Trippy.
Even trippier: If you break down the numerals in Oct. 23 (10-23-16) and add them up, as one enterprising Swift fan @DylanLovatic did for the Twitterverse, you get — gasp — 13.
However, all the pieces don't add up. 
All the other Swift albums that dropped in October have been preceded by at least one fire summer single. All we've heard from Swift this year is snippets of her drawn-out battle with Kanye West over his "Famous" lyrics, in which he tried to claim the two might still have sex because he "made that bitch famous."
Additionally, she's also stated her intentions to hang back from the spotlight a little bit. "I think I should take some time off," she told Vogue in April. "People might need a break from me." 
She reiterated that point in May: "I just decided that after the past year, with all of the unbelievable things that happened," she told Vogue again. "I decided I was going to live my life a little bit without the pressure on myself to create something."
It could be classic misdirection. It could be an earnest request for space. Fans will have to see as the month winds to an end.