Navy Federal Credit Union is ordered to pay $28.5 million for its debt collection policies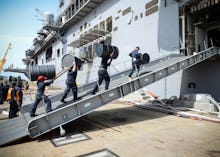 The Navy Federal Credit Union must pay $28.5 million for breaking the law with its debt collection practices, according to a consent order issued by the Consumer Financial Protection Bureau Tuesday. 
According to the CFPB, the credit union — an armed forces bank serving many members of the military and their families — used threatening debt collection tactics against consumers between January 2013 and July 2015, violating the Dodd-Frank Wall Street Reform and Consumer Protection Act.
Twenty-three million dollars will go to consumers who were intimidated, and the remaining $5.5 million will go to the the CFPB's civil penalty fund. 
The union's unfair practices, according to the CFPB, included unlawfully limiting members' access to their accounts and making unauthorized threats — to inform service members' commanding officers of their debt, for example.
Some members even got letters suggesting they would be sued by the NFCU if they didn't pay back their debt. 
Approximately 193,000 customers received such a letter, and those who followed instructions to pay within 60 days will get back some compensation out of the $23 million, CFPB spokeswoman Moira Vahey wrote in an email to Mic.
In addition, she said, the 115 people allegedly intimidated by the NFCU with threats that their commanding officers would potentially be involved will receive $1,000 each — irrespective of whether they made repayments.
"Navy Federal Credit Union misled its members about its debt collection practices and froze consumers out from their own accounts," CFPB Director Richard Cordray said in an emailed press release. "Financial institutions have a right to collect money that is due to them, but they must comply with federal laws as they do so."
Unfair or exploitative debt collection practices have gotten increasing national attention this year, and the CFPB has ramped up efforts to crack down on abusive collectors.
Part of the credit union network, the NFCU is technically a government agency, but functions as a nonprofit small bank in which all members are partial owners.
"Navy Federal Credit Union is proud of its 83-year history of helping our members fulfill their financial goals," NFCU said in a statement emailed to Mic. "Where our collections practices have come up short in the Consumer Financial Protection Bureau's estimation, we have made all the necessary changes. We have cooperated with the CFPB throughout the process."
Service members have also been targeted by other banks seeking to collect money or assets: Wells Fargo has come under fire, for example, for illegally repossessing 400 service members' cars. 
If you ever get harassed by a debt collector, here is how you can fight back.