Swing State Polls Today: Here's who's leading the 2016 election in these key states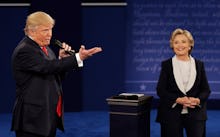 National polling over the last few days has shown a clear split in the presidential race. Hillary Clinton has surged to an average five percentage point lead over Donald Trump. And some recent polls have Clinton up by double digits. 
But as always, the president is chosen by the Electoral College. And how Clinton and Trump fare in state polls is more indicative of their overall chances for success. 
Swing state polls on Oct. 12
A Monmouth survey of Missouri shows Trump with a slight edge there, taking 46% of the vote to Clinton's 41%, followed by Gary Johnson at 5% and Jill Stein at 2%. 
Florida remains close, according to an Opinion Savvy poll, which shows Clinton garnering 47% support to Trump's 44%. Johnson claimed 5%, followed by Stein at 1%.
Presidential polls in Ohio, Florida, North Carolina and Pennsylvania
Only a week ago, Trump was enjoying a three-point lead over Clinton in Ohio. A win in the country's perennial battleground state would put Trump on likely his best path to 270 electoral votes. But this week, Clinton and Trump are statistically tied in the state, a major setback for Trump. 
The story is similar in Florida and North Carolina. Trump must win at least two of these three to have a shot at the White House. But promising polling trends for Trump in these states have disappeared as Clinton maintained or grew her leads in Florida and North Carolina over the past week. 
And possibly the worst news for Trump: These state polls do not take into account the most disastrous four-day stretch of his campaign. Yet even without polling that incorporates #trumptapes, the second presidential debate and an exodus by Republicans away from Trump, Clinton has leads in key swing states.
Presidential polls in other battleground states
Looking further afield, Trump continues to face an uphill battle in states like Colorado, Michigan and Pennsylvania. While Colorado was a battleground in 2012, the latter states have working-class white populations Trump hoped to swing in his favor. But polls suggest flipping those traditional Democratic strongholds to the GOP will be difficult. 
The takeaway: As national polls continue to show a slide for Trump, swing state polls have yet to offer him any comfort. And if state polls follow the national trend after several days of disarray for Trump's campaign, Clinton's expected margins of victory could widen.