Viral footage of a bloody, 8-year-old girl captures the ongoing horror of Syrian civil war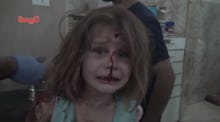 The internet has seized on yet another image capturing the urgency of the war in Syria. This time, it's the face of a bloodied, 8-year-old Syrian girl who was captured on video as medics tended to her injuries.
In the video, the sobbing girl tells a man out of frame that her name is Aya and that the roof in her home fell on her, according to a translation by CNN. 
Aya's home was destroyed in Monday's airstrike on Talbiseh, a city in northwestern Syria, which left at least two dead and 30 wounded. Aya's mother, father and three siblings were also injured, CNN reported.
In August, footage of a Syrian boy being rescued from the aftermath of an Aleppo airstrike went viral, with a haunting still of the boy — later identified as 5-year-old Omran Daqneesh — covered in dirt and blood making the rounds on social media. 
In February, the Syrian Center for Policy Research released a report estimating that at least 470,000 Syrians had died in the conflict from 2011 through 2015, causing the average life expectancy to plummet 15 years as a result. The average Syrian, the report estimated, can now only expect to live to 56 years old.
This staggering number has only continued to climb, with more than 1,000 civilian deaths each month, according to the Syrian Network for Human Rights. In September, 1,176 civilians were killed, most of them as a result of airstrikes in Aleppo. 
But each time footage like that of Aya makes the rounds, so does the question of whether such imagery will ever translate into action.
"The viral focus on a single image, or a single moment, literally and figuratively reduces a wildly complex and layered problem into something two-dimensional," Mic's Natasha Noman wrote as the video of Daqneesh circulated.
In taking these photos out of context, she said, people fundamentally misunderstand the war in Syria. 
Noman continues: "If we collectively refuse to go a step further and truly understand why these children are subjected to such atrocities, we will remain unequipped to demand the change needed to prevent them from happening in the first place."