Why I wore a "grab my pussy, I dare you" T-shirt to a Trump rally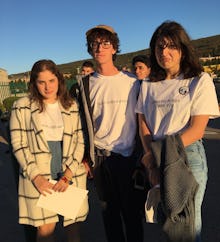 A T-shirt inscribed with the words "She's a cunt, vote for Trump" is A-OK at a Trump rally, but a Black Lives Matter T-shirt? Or a "Grab my pussy, I dare you" T-shirt? Get outta here.
Such was the reality for 18-year-old high school senior Noah Frace, who, along with friends Anna Lehane and Erin May, attended Trump's Pennsylvania rally on Monday evening, a rally they were soon almost kicked out of after police approached them. Their crime? 
Bueller...? Bueller...?
Police approached the trio, accusing them of disturbing the peace at a rally in which Trump's supporters were heard chanting "lock her up" at the mention of Hillary Clinton's name. After explaining that they were exercising their right to freedom of speech, they were eventually left alone while cries of "blue lives matter" were heard around them.
"We wanted to make a statement and stand out to the people and say Donald Trump is not fit to be president," Frace said in an interview with Mic.
Frace and May's T-shirts inscribed with the words "Black Lives Matter" surely turned heads (Trump, after all, still believes the Central Park Five are guilty), but it was Lehane's shirt with the words "grab my pussy, I dare you" that generated the loudest uproar from attendees.
"I wanted to be someone there saying, 'Yes I have a vagina, and no, that does not make me weak,'" Lehane said in an interview.
Wearing this shirt to a Trump rally was a powerful statement in response to leaked tapes that emerged late last week in which the Republican nominee for president is heard uttering the most disgusting statement ever strung together with five words: "Grab them by the pussy." Them being women, a gender Trump has a sordid history with regard to respecting.
Below, in their own words, the 18-year-old high school seniors from Kingston, Pennsylvania, explain what motivated them to attend and what happened once inside. They also offer a clear message to Trump and his supporters: America deserves better.
Lehane: "Mostly what was going through my mind throughout the rally was just disappointment and a sadness over how everyone there was not only reacting to my shirt, but to Trump, and each other as well.  It was the single most hate-filled space I have ever been in. There were not many comments made to our faces about the shirts that we were wearing, but there were plenty of glances, snickers and pictures being taken. The few people that did actually confront us about what we were wearing stuck out, though. There was one guy, an older white man, who looked me up and down and proceeded to tell me that he 'always liked a good dare.'" 
Frace: "We made the shirts in hopes of making a statement. None of us imagined receiving this much attention. We wanted our shirts to show that we weren't going to stand for the disgusting statement that was made by Trump. Black Lives Matter is a very important movement to us. It's not something that devalues people of other races, but simply states that black people need to be treated equally. Black people are dying at the hands of police all of the time. We figured there wasn't a better stage to protest and stand for our beliefs than in a crowd of people that have very opposite views. All we care about is getting our message out there and hope to change some people's minds."
"I, as a woman, can not sit idly by and let someone in such an influential position make comments that degrade not just me, but every girl and every person."
Lehane: "I would like people to talk about the shirt I wore not as something edgy that I did to get Twitter famous, but as civic protest! I, as a woman, can not sit idly by and let someone in such an influential position make comments that degrade not just me, but every girl and every person. It is so important to speak out against issues that you care about, because every voice is heard. Every voice matters. I hope that people take my message and use it as a catalyst for more conversation — not just about this election, but for the rights of women everywhere. Sexual assault is not a joke. It is not locker room talk, and someone who makes those comments makes for an unfit presidential nominee in my book." 
As for who these first-time voters plan on casting their ballot for come Nov. 8: "Hillary," they both said before I even finished asking the question.