'American Horror Story: Roanoke': Will Evan Peters' character be revealed in episode 5?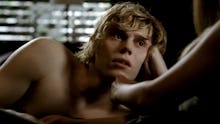 We're five episodes into the latest season of AHS — American Horror Story: Roanoke — and fans' beloved Evan Peters, whose name appeared in the season six premiere's closing credits, has yet to make an appearance. Suffice it to say that without him and Jessica Lange, the show just isn't the same. 
And as you can probably imagine, fans of the show aren't too happy about it.
Although some of us have already begun the Evan Peters grieving process, it's still too soon for that. Turns out that if you look closely enough, you'll find that Evan Peters' name appears in the ending credits of the show. What does that mean? It's only inevitable that he's going to reveal himself at some point this season. So far, two pretty inventive fan theories about what role Peters will be taking on have started to circulate online.
Is Evan Peters is the pig-man?
It's possible that the most nightmarish figure in AHS: Roanoke is actually Evan Peters in disguise. The pig-man has only shown up periodically to give everyone nightmares, but fans have a feeling that he will become a more prominent figure as the show continues. And although the pig-man's face has been masked during the first four episodes, his body has been completely visible. Peters, who hasn't been shy to show off some nudity in prior seasons, does share a similarly thin-yet-toned frame with the pig-man. 
Is Evan Peters going to be playing an ancestor to Dandy Mott from Freak Show? 
After the theme for season six was revealed, creator Ryan Murphy teased to EW that it would "explain how the Motts began." For those who don't remember, Dandy Mott was the sadistic sociopath who liked to play with a demented clown during season four, a.k.a Freak Show. Considering Peters' knack for playing creepy characters, it's entirely possible that he will show up as one of the early Mott's during the new season. Unfortunately, this is pure conjecture at this point as Peters has not uttered a peep about any of the rumors so far.
The new episode of American Horror Story: Roanoke airs Wednesday at 10 p.m. Eastern on FX. Fingers crossed that Evan Peters shows up. If not, we'll just have to spend our time creating some more wild fan theories.