Kaytranada turns Solange's "Cranes in the Sky" into the house hit we didn't know we needed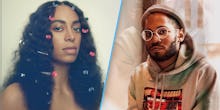 Solange's A Seat at the Table was an absolute gift to a devastated and distracted world when it dropped it Friday, Sept. 30. It offered 21 tracks of contemplative, healing R&B that spoke to many years of black pain. Its songs are confessional and intimate, creating a mystique that a lot of popular songwriting attempts to build, but rarely manages to make a reality. The release earned Solange her first no. 1 album, making her and Beyoncé the first sisters to ever top the charts in the same year.
It's hard to argue that the album is lacking anything at all. It doesn't have a ton of tracks suited to blast on the dance floor, but of course that's not really the album's point. However, great songs should be able to keep their magic if they're rearranged, re-genre'd.  
On Tuesday, "Cranes in the Sky" passed that test. That's the day Los Angeles-based DJ Kaytranada released an uptempo, house remix of the track after teasing the song for a New York audience Oct. 5. The remix offers a fresh take on an already beloved track, getting Solange up from the table and onto the dance floor. 
"I couldn't help it and I can't deny how good it sounds," Kaytranada wrote explaining how the track came about on SoundCloud. "This is just an edit to play on my DJ sets, and I played it once and everybody wanted it right away."
It's something that Kaytranada has done before for other pop tracks. He remixed Rihanna's "Kiss It Better" for her recent remix EPs and has put his trademark house feel on to TLC, Missy Elliott and Janet Jackson hits. 
"Honestly I was gonna wait to see if Solange or her team or whoever works for her would've ask me to do an official remix so if they still want to, I could make it sound better than that version but ohhhhh, what the hell," Kaytranada added. "Anyways I highly recommend you that new Solange album A Seat At The Table."
Kaytranada also released an extended dance mix of his Chance the Rapper "All Night," just to drive home the point that everything he touches will invariably turn into house gold.