Obama says no "decent human being" would defend Trump's comments on women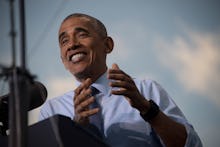 Appearing on the campaign trail on Tuesday, President Barack Obama waded into the controversy surrounding Donald Trump's comments bragging about committing sexual assault, and casting the 2005 comments as representative of Trump's attitude toward women and part of a pattern of insults by the Republican nominee.
"You don't have to be a husband or a father to hear what we heard a few days ago and say, 'That's not right,'" Obama told a raucous audience of 7,000 at North Carolina A&T University in Greensboro, North Carolina. "You just have to be a decent human being to say, 'That's not right.'"
The release of the recording, in which Trump can be heard bragging about how he grabbed women by their genitals, has dominated the campaign since it was published by the Washington Post on Friday. The ensuing fallout has led to a deep fissure among Republican elected officials, many of whom called for Trump to leave the race.
In his first extended remarks on the controversy, Obama argued the recording made Trump unfit for the White House.
"He doesn't have the temperament or the judgment or the knowledge — or, apparently, the desire to obtain the knowledge — or the basic honesty that a president needs to have," Obama said. "And that was true even before we heard about his attitudes toward women."
"Nobody fully understands the demands of this job until you've sat behind the desk," he said, echoing an argument he made at the convention and in previous campaign stops. "Tweeting doesn't qualify you. Sound bites don't qualify you. Insults certainly don't qualify you."
Toward the end of his 50-minute speech, Obama went on an extended off-script riff directed at Republican leaders who have disavowed Trump's 2005 comments while declining to rescind their endorsements.
Now you've got people saying, 'Well, we strongly disapprove. We really disagree. We find those comment disgusting — but we're still endorsing him. We still think he should be president. That doesn't make sense to me."
In a thinly veiled reference to House Speaker Paul Ryan and other senior GOP leaders, Obama pointed to the disconnect between distancing themselves from Trump but still supporting his bid. 
"You can't have it both ways here," Obama said. "You can't repeatedly denounce what is said by someone and then say, 'but I'm still gonna endorse him to be the most powerful person on the planet.'"
The strategy: The event was Obama's latest appearance on the campaign trail on behalf of Clinton, his former secretary of state and onetime Democratic primary rival. He is expected to headline at least a dozen more events for Clinton over the course of the final weeks of the campaign. 
The Clinton campaign is banking on the president's high popularity to motivate turnout among Democrats, particularly the young people and minorities who were key elements of Obama's coalition but have been reluctant to enthusiastically back Clinton's candidacy. Obama is also lending his popularity to candidates further down the ballot, including Deborah Ross, the Democratic challenger for Senate in North Carolina.
Obama's enormous popularity among African-American voters explains his appearance on Tuesday in Greensboro. Clinton is in a tight race with Trump in North Carolina, where the latest polls show the former secretary of state just one or two points ahead of her Republican rival. Obama won the state in 2008 and narrowly lost it to Mitt Romney in 2012. 
On Tuesday, Obama made an explicit appeal to voters in the state to work to elect Clinton, casting her as the inheritor and defender of his legacy.
"Turn back the forces of racism and misogyny and send a message for progress," Obama said at the end of his remarks. "Send a message for facts Send a message for reason. Send a message for hope by voting for Hilary Clinton. Send a message about who we are as the American people and make our kids proud."