Hurricane Matthew has now killed 34 people in the United States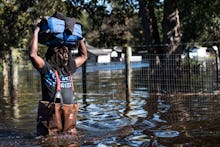 At least 34 people are reported dead from Hurricane Matthew, which was downgraded to a tropical storm over the weekend but is still causing flooding in riverside towns in North Carolina, reported ABC News on Tuesday.
17 of the confirmed dead were in North Carolina, Gov. Pat McRory said at a press conference. According to CNN, flood warnings into Tuesday night are still in place in the Carolinas and southeastern Virginia, with water scheduled to crest soon in Tar River at Greenville, North Carolina, a town of around 89,000 people.
"I cannot stress (enough) to people, especially on the Tar River today, if we say the water is coming and we say do not drive through that water, we mean it," McCrory said.
According to ABC News, some drowned, while others were killed by debris and at least one man in North Carolina died when he was shot by police "during a high-water rescue in Lumberton."
Evacuations were under way on Tuesday in North Carolina's Lenoir, Pitt, Greene, Bladen and Edgecombe counties, according to ABC, and in South Carolina, flooding is expected to continue for up to a week and hundreds of thousands remain without power.
Analytics company CoreLogic estimates insurance damages from the storm could reach $4 to $6 billion, though total costs from Matthew will likely be much higher.
Haiti was the hardest hit by the storm, with the more than a thousand dead and up to 1.4 million people needing immediate assistance, according to a United Nations estimate. Authorities there worry diseases like cholera could spread rapidly in the wake of the storm, while aerial footage released last week showed wide stretches of Haiti lay in ruins following its passage.