Sheriff Joe Arpaio's reign may be at an end as federal prosecutors announce charges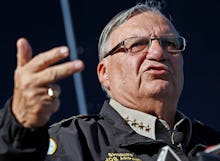 Maricopa County Sheriff Joe Arpaio, the 84-year-old prominent anti-immigration activist and law enforcement official whose 23-year reign over Arizona's most populous region has been marked by innumerable controversies and accusations of racial profiling, is now officially the target of a federal criminal case.
U.S. Department of Justice prosecutors announced on Tuesday they will be pursuing criminal contempt charges against Arpaio, who they accused of ignoring a December 2011 federal court order barring his agency from enforcing federal immigration law amid widespread allegations of racial profiling, the Arizona Republic reported. According to the paper, the prosecutors believe Arpaio defied the order for at least 18 months and are investigating whether to prosecute him and three others for additional charges of concealing evidence and obstructing justice.
An official charge has not yet been filed, as U.S. District Judge Susan Bolton has requested written order to show cause, the Republic reported. But the case is now inevitable. According to ABC News, Arpaio could face up to six months of jail time if convicted.
Arpaio has earned adulation among corners of the conservative movement and national infamy among his opponents for his hardline views on immigration and harsh take on law enforcement. Under his tenure, Maricopa County runs an outdoor prison the sheriff calls "Tent City" where temperatures were recorded reaching 129 degrees Fahrenheit in July 2016. Arpaio's deputies regularly enacted raids of workplaces looking for undocumented immigrants, a practice federal courts ordered his department to cease in January 2015, and the sheriff unsuccessfully sued the White House over its immigration policies in recent years.
Among the most egregious accusations leveled at the sheriff were claims he used official investigations to intimidate political rivals, including members of the judiciary and elected representatives in local government.
"In the past decade, hundreds of lawsuits, ranging from wrongful deaths in Arpaio's jails to unlawful arrests, have been brought against the sheriff's office," Rolling Stone's Joe Hagan wrote in 2012. "Far from saving money with Arpaio's on-the-cheap Tent City, Maricopa County has been forced to shell out more than $50 million to defend itself against lawsuits brought by the sheriff's victims – including nearly $1 million awarded to one of the county supervisors who was illegally targeted by Arpaio's anti-corruption unit."
In the past year, Arpaio has emerged as a prominent advocate for Republican presidential nominee Donald Trump, giving a speech at the 2016 Republican National Convention in July in which he denounced folks "more concerned with the rights of illegal immigrants than we are the citizens of our own country."
Arpaio has used the upcoming elections as an excuse to explain the charges, according to the Republic.
"First and foremost, it is clear that the corrupt Obama Justice Department is trying to influence my re-election as Sheriff of Maricopa County," the sheriff said in a statement sent to the paper. "It is no coincidence that this announcement comes 28 days before the election and the day before early voting starts. It is a blatant abuse of power and the people of Maricopa County should be as outraged as I am."