Donald Trump just told his supporters to vote on November 28 instead of November 8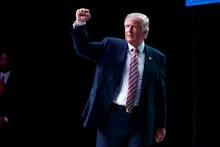 Following weeks of controversy over Republican presidential nominee Donald Trump's alleged mismanagement of his signature family foundation, the Washington Post's release of a 2005 video featuring the candidate bragging about sexually assaulting women, and his deliberate exacerbation of the brewing civil war within his own party, Trump had a message for his supporters at a Tuesday rally in Panama City, Florida: register to vote on November 28.
Election Day, of course, is on November 8.
"Go and register," Trump said at a rally in Panama City, Florida Tuesday evening. "Make sure you get out and vote, November 28. If you've already registered, request an absentee ballot today and vote!"