Eric Trump blames "grab them by the pussy" comment on "alpha personalities"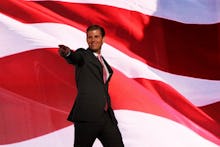 Donald Trump's son Eric Trump is dismissing his father's sexually predatory comments in much the same way the Republican presidential candidate is; in addition to repeating the "locker room banter" line, Eric Trump says comments like "grab them by the pussy" just happen when "alpha personalities are in the same presence." 
Speaking to the Colorado Gazette, Eric Trump said, "I think sometimes when guys are together they get carried away, and sometimes that's what happens when alpha personalities are in the same presence," of his father's 2005 hot mic comments. "At the same time, I'm not saying it's right. It's not the person that he is."
The "alpha personality" is a common excuse for rape culture, much in the vein of "boys will be boys." The actions which Donald Trump was caught on tape describing to now-possibly-fired Today host Billy Bush, that you "can do anything" to women when you're a celebrity, constitute sexual assault, not harmless banter among "alpha males."
In the interview with the Gazette, Eric Trump then steered the focus onto Hillary Clinton and her husband, Bill Clinton. Several women who have accused Bill Clinton of sexual assault were in the audience at Sunday's debate. 
"I think actions speak a lot louder than words, and I think [about Hillary Clinton's] actions as it pertains to females and Bill's actions as it pertains to females and the lives they've destroyed," Eric Trump said of the women.
Donald Trump has begun to dip in the polls following the tape's release on Friday, trailing Hillary Clinton by double-digits in some polls.
Since issuing an "apology" for his comments, Donald Trump has been trying to spin the incident as nothing more than a distraction.