'Atlanta' aired a fake cereal ad that was actually a shocking satire of police brutality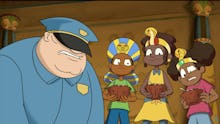 FX's acclaimed dramedy Atlanta has left hints that it exists in a slightly alternate reality to ours — one where Justin Bieber is black and people leave Nutella sandwiches on the bus for Donald Glover to reach some heightened sense of self. But the show's seventh episode, "B.A.N.," an acronym for Black American Network, was the viewers' first dive into Atlanta's fictitious television world. It quickly got intense. 
From aspiring rapper Paper Boi's interview on the talk show, Montague, a series of fake commercials were aired in between the segments that worked as timely social commentary — none more so than a children's cereal commercial. 
The commercial was for a Trix-like cereal, Coconut Crunch-O's, which are only supposed to be eaten by kids, per the branding. But as three black children find the prized cereal in a tomb, a wolf jumps out of a sarcophagus to eat the treat, despite the children's pleas. Suddenly, the wolf is aggressively tackled to the ground by a white police officer. 
"Stop resisting," the officer says to the wolf, as the children look on horrified. 
The children try to explain to the officer that it's not a big deal — it's just cereal! — but the officer insists that the wolf is going to go to jail, as he repeatedly crushes the wolf's back and neck.
"Nigga, I could be eating these kids!" the wolf says, as he's lifted to his feet by the officer. "But I'm out here eating cereal."
The officer and the children are left with an intense stare down as the commercial cuts to a pleasant stock image of Coconut Crunch-O's as "part of a balanced breakfast." The commercial — and its sobering commentary on the horrors of police brutality — weren't lost on Atlanta viewers through Twitter. 
It also serves as a great reminder than Atlanta is unique, must-watch television — if you aren't checking it out already. Watch the commercial below.