Kendrick Lamar gets that pop money, offering a verse to Maroon 5's "Don't Wanna Know"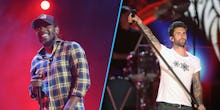 There's something hilarious about Kendrick Lamar offering his bars to a pop track. Here is a writer who constructs his songs like a master architect, making sure that every syllable and instrument is perfectly in place to withstand the heat and weight it'll have to bear. To listen to his voice cast carelessly into something as innocuous as a Maroon 5 track feels akin to watching Cornel West make a cameo on the Big Bang Theory.
However, late Tuesday, that happened. Voice coach Adam Levine and his band released "Don't Wanna Know," a summery bop released two months too late that seems to have ripped its synths straight from a Justin Bieber x Skrillex collaboration. Lamar shoehorns a quick eight bars for the third verse, and voilà — pop mediocrity.
The track focuses on past lovers, with Levine saying he doesn't "wanna know" what they've been up to or who they're dating now. Lamar picks up the themes, dropping flat bars about how his ex's attempts to make him jealous aren't going to work anymore, ending with a light metaphysical mindfuck.
"Matter fact, never mind, we'll let the past be," he raps. "Maybe his right now, but your body's still me, woah."
The lines are a far cry from the triple-internal rhyming bars Lamar usually brings to his hip-hop features — such as those Genius recently broke down from his verse on ScHoolboy Q's "That Part (Black Hippy Remix)", where Lamar spits 87 rhymes in 24 bars.
Pop is a different animal. Simplicity is king. And perhaps Kendrick is looking for a crown in that space too, since he arguably donned hip-hop's long ago.